Unified Communications Solutions (UCS)
Convergence of voice, video and data services into one unified system is a reality. DasNet UCS solutions can help your organization improve productivity, support a global network, facilitate and enhance personnel communications. DasNet inherently has the system engineering, development, and deployment experience required to integrate or migrate client networks consisting of traditional circuit-switched and packet-switched voice/data solutions to the latest VoIP/SIP switching systems, maximizing use of current assets, or creation of a next generation architecture.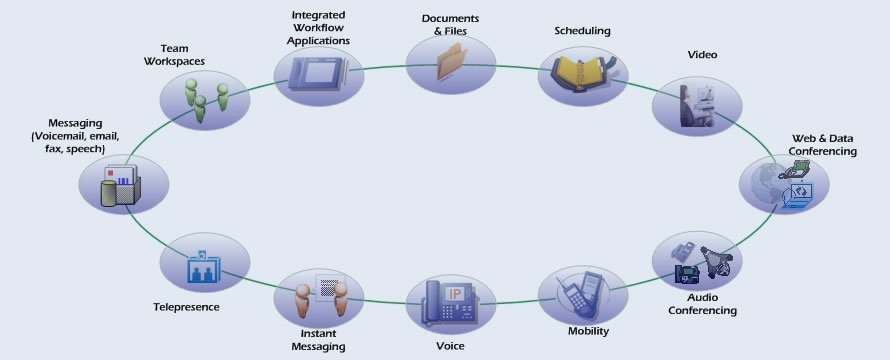 DasNet's vision is to foster innovation and enhance client efficiency by making it easer for people to find, reach and collaborate with one another through a unified communications experience — right from their familiar devices, applications, and processes. So people are only one or two clicks away from collaboration.
Integrating communications and collaboration in a rich, multimedia experience — one that can include unified telephony, voice, video, instant messaging, e-mail, voice mail, and business processes and applications — enables a whole new way for personnel, teams and organizations to communicate and make faster, better decisions.
DasNet's UCS strategy is to deliver — in partnership with the leading telephony, audio, and video vendors — complete software, services and hardware solutions for unified communications and collaboration. These turn-key solutions offer a simple, unified user experience that seamlessly integrates with multi-vendor environments in classified and unclassified settings. The open standards based software platforms elongates the life cycle of existing IT and telephony investments to help make users more productive, speed business processes and reduce overall costs.
Many organizations are discovering the benefits of unified communications and collaboration solutions, which provide capabilities such as:
Enterprise secure messaging
Voice over IP (VoIP)
Video multi-conferencing
Real-time presence awareness